Pub News - from Bristol Pubs Group - November 2017
There's a fair bit to report on this time so get yourself a pint of ale, real cider or perry and get stuck into the latest pub happenings. The Drawbridge on the centre's St Augustine's Parade is looking a great deal smarter for its refurbishment by pubco owner John Barras and on a recent visit the parent company's Greene King ales were offered with additional empty hand pumps should the need for more ale arise. On Facebook, John Ashby of the Gryphon says;
It is with great pleasure that I announce that Jasmin and I....have taken on a second pub! We now hold the keys to the Pineapple on St George's Road (behind the City Hall). It has been vacant since Feb 2016, and we are very pleased to prevent another historical pub being turned into something other than its intended use.

The pub has huge potential, and we hope to be able to utilise that over the coming years.

The main licensed area of the pub is in relatively good condition, so we're looking at a fairly swift turnaround before we start trading. Preferably the second weekend of December.

We hope to offer the friendly, relaxed atmosphere that regulars at The Gryphon enjoy, but without the heavy metal. So for those of you that avoid coming to see me because you can't bear the music, you've no excuse now! The music will be more blues/rock/folk orientated (as well as all the guilty pleasures I wouldn't allow to be played in the Gryphon!).

The selection on the bar will be varied to cater for most tastes, with at least 4 cask ales on rotation.

There will even be a wine LIST! We are discussing our options for the introduction of food.

Unfortunately there is no beer garden, but the pub remains cool in the summer, and cosy in the winter. Jasmin is very keen to get her landlady-groove going on at The Pineapple. My duties will be shared between both venues, and my great team at The Gryphon are determined to maintain our great reputation.
Bristol Pubs Group are very excited about this fantastic news.
The Bristol Yard (formerly the Yard, Colston Yard, and Smiles Brewery Tap) on Colston Street has opened following months of closure and another predicted re-opening is that of the Scotchman & His Pack at the foot of St. Michael's Hill. This pub has been closed for years but could be open by now selling French beer and free-of-tie British real ale. On Whiteladies Road a new venture for Zazu's Kitchen is Rosa Tapas & Bar in the building that formerly housed the Town House. There is interesting local beer in bottles and cans as well as draught key keg beer from a local brewer such as Moor. At Temple the Sidings, which used to be the Reckless Engineer, opened in August selling real ale from Box Steam, Wadworth and Sharp's among others as well as the full range of drinks, including coffee, in a transformed clean and modern surrounding that also offers pizza and wraps.
In nearby Cattle Market Road the Cattle Market Tavern continues to demand recognition for its architectural importance, particularly in this development area where attractive design of the built environment has come into question. Bristol Pubs Group firmly believes that the building offers credible architectural design that would complement the new builds, and create a high profile attractive licensed premises. In Redcliffe The Nook is no more and the Velindra name has returned to this long-standing Bristol pub. The growth of Butcombe's pub estate sees it take on the managed waterside house, the Ostrich Inn.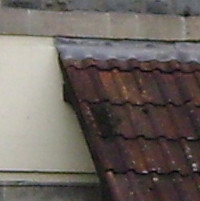 The Armoury Tavern on Stapleton Road in Easton is to let and the Merchant's Arms at Stapleton remains closed with signage removed. This is a densely populated area but the nearest pubs are the Mason's Arms and the Queen's Head, both an appreciable distance away. Fortunately a community group are fighting hard to save their pub and have achieved an Asset of Community Value (ACV) listing for it. Bristol Pubs Group are fully supporting the campaign which has featured in the Bristol Post and on Radio Bristol as well as in various online media.
A planning application to convert into homes hangs over the closed Russell Arms in Morton Street, Lawrence Hill and in nearby Barton Hill the Lord Nelson is still closed and boarded up. The future of the Three Crowns in St. George remains uncertain. Its interests are in the hands of a liquidator who has required the premises to be vacated while its sale is arranged, and so the pub is currently closed. On a positive note the pub has been awarded ACV listing and it is extremely well supported by a band of enthusiastic well organised followers which have used the pub for a wide range of social, charitable and sporting uses. The Railway Tavern in Fishponds has a new leaseholder and reports are that they guys running it are in the business of being the owners of a well ran pub. At Kingswood an 'All Enquiries' sign was on the Chequers in Lodge Road but it has now been removed. This pub has been closed for some years and is another one where the community achieved an ACV listing proving that there are customers that are supporting a re-opening.
The Prince of Wales on Gloucester Road is under threat in its current form as EI (formerly Enterprise Inns) wants to transfer it to management under its Bermondsey Pub Company brand. This could lose the pub its credentials as an independent trader supporting other local independent suppliers and there could also be a risk to the well-presented traditional interior (not to mention the street-art clad exterior). There is a well-supported crowd funding campaign to fund the legal cost that will ensue. In Westbury-on-Trym the White Horse closed and re-opened in a short space of time this autumn, from a dining establishment to what is now a wet-led pub.
The good news in Totterdown is that the Star & Dove on St. Lukes Road has re-opened by Chris & Mel with Chris's brother Steven. It had closed in May. In St. Anne's the Langton Court is undergoing a refurbishment that could see significant changes but it is too early to say at the time of writing. The splendid facade is surely a draw for this suburban pub. The fine looking Elm Tree in Bishopsworth is another pub that has gained ACV listing due to the proactivity of its customers.
Following suggestions to the contrary we are reminded that the former Black Sheep at Almondsbury IS a pub now called Lodge on the Park, part of Aztec Hotel complex, and is selling Thwaites ale. In Lower Almondsbury, Butcombe has taken on the Bowl Inn, a quaint and cosy village pub next to the church in a classic English village setting. It should do well.
There is bad news, however, at Alveston's Cross Hands which has closed and been sold by EI to an unknown buyer whose intentions for the place are not known, but are rumoured to be not pub-friendly. Our local man Martin Farrimond tells us that the Greene King owned Ship Inn at Alveston has a new manager, Emma. Emma says "Somewhere along the line things changed and the Ship's fantastic history got forgotten. Having looked back through the history of the Ship Inn, my aim is to restore it to its former glory as the hub meeting place for the local community". In recent years, it has been primarily seen by locals as an eatery for the adjacent Premier Inn but now, there are a number of initiatives planned to redirect the focus: These include charity disco evenings throughout December and on New Years' Day, with all raised monies going to Macmillan Cancer support. There's a new dart board installed (drop in if you'd like to join their team); the local chess club meets every Thursday. Beginning in the New Year will be a weekly mothers' morning group. Keep your eyes open too for local brewers' sessions, where a brewer will be invited to talk about their craft - with their beers available at the same time, of course.
The new owner of the Shant in Kingswood would like to see it gone and housing built in its place but there are a lot of people who both enjoyed the pub and the architecture that it exhibits and so would like to see its retention. Wadworth pub the Queen's Head at Hanham is under new management since late August and the Midland Spinner at Warmley has been refused planning for the conversion of two outbuildings into dwellings due to the plans offering inappropriate design and lack of consideration of the effect on the culverted watercourse that runs through the site. According to the Doynton village newsletter the Cross House has been bought from EI by someone who plans to refurbish it and re-open it in February. Fingers crossed on that one. Nearby, the Carpenter's Arms at Wick closed in September and the freehold went up for sale but the pub re-opened in November. The Salutation at Mangotsfield has closed and a planning application is approved for its refurbishment, it is due for a re-opening in February under a new name the Grapevine. The White Swan on North Street in Downend has had a £50,000 refurbishment. This included a redecoration of the internals and externals as well as new signage and lighting, new fixed seating, a new bay floor and a new kitchen, which will serve filled rolls, pies and finger food. Some structural repairs have also been carried out. Bath Ales Gem and Sharp's Doom Bar are the regular real ales served alongside several real ciders. The pub supports two darts teams, hosts regular live music and shows a variety of live sport on TV. Landlord Andy Clough has run the White Swan for six years and has signed a new lease with NewRiver, which owns and oversees the management of 344 pubs across the UK alongside a wider retail and leisure portfolio.
Another Cygnus wanting to share positive news is the Swan at Winterbourne which is now properly known as the Swan Smokehouse Saloon following a fresh presentation of the outside with gleaming paint and wood cladding and the placement of new signage. Inside there is recycled timber in the bar room and the restaurant has been done out in an American wild-west theme where meat and more meat is the menu's main feature. Doom Bar and 6X ales were offered on a recent visit.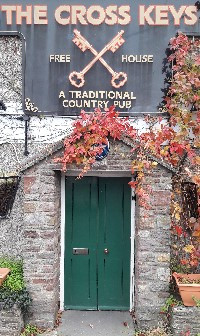 The Cross Keys on North Road at Yate closed in the summer. This two roomed traditional community pub had been very popular due to its consistent reliable offerings that were enjoyed by locals and visitors alike. It has the feel of a cosy country pub but is right on the outskirts of Yate and is the nearest drinking pub to Yate Town Football Club. Its' near neighbour the Codrington Arms at Engine Common has just celebrated its first year of including the Post Office and village shop. The Post Office had been just along North Road until it closed and left Engine Common without the service until the pub stepped in to save it by moving into a building at the pub's rear, with the small shop.
The fight to save the Tern Inn on the 'Birds' in Chipping Sodbury continues at strength. The community have really got behind their local which is completely different from the High Street pubs in as much that it is a proper community local with emphasis on sporting and social cohesion, and has an ACV listing. The campaign has gained air time on local radio and has the support of Dodington Parish Council. We wish them well and support them in their worthy pursuit; the campaign can be followed on Facebook. In the high street the Portcullis Hotel re-opened mid-August as a smart and spacious pub and cocktail bar that caters for most tastes. A selection of gins is prominent, but the ale drinker has to switch to keg beer. The front snug majors on the cocktails and the outdoor seating area is well presented. Still in 'Sodbury, the old Grapes pub in the Tudor Raj in Sodbury is up for a new nil premium, free of tie lease with Fleurets, but the shock news is that the Good Beer Guide listed Horseshoe had been put up for sale! This pub is very new only coming to existence in 2014 when Dave and Gill evolved Gill's Gilly's Wine Bar into the fantastic real ale outlet that it has become. Gilly's itself had been opened around 2013 in the space that was previously occupied by Vickers Stationer.
The Riverside Inn at Saltford Marina has closed. Owner Wadworth says that they would like to re-open it under a new tenant with a new menu and re-marketing of the accommodation. A refurbishment is expected to start soon, prior to the re-opening. Dave Lockley tells us that the Battleaxes at Wraxall has just undergone complete redecoration, inside and out and looks great. Beers include Bristol Beer Factory Nova and the Three Castles Vale Ale (badged as Flatcapper Ale after the owner's name). Both ales were excellent on a recent visit and there is also of course, a new menu. News from the White Lion at Nailsea is that landlord John Lindsay has put the lease on the market after five years of running the pub, but it remains open and trading as normal. The Old Barn at Wraxall closed without warning in November and is now for sale.
As already mentioned Butcombe are acquiring pubs and two have been snapped up by them in their heartland. The Jubilee Inn at Flax Bourton and the Langford Inn at Lower Langford have both been added to the estate, in common with the Ostrich and the Bowl they were previously owned by Welsh regional brewer and pub owner SA Brain of Cardiff.
The saga at the Lord Nelson at Cleeve continues with owner Jonathon Tout reportedly saying that it is time to get some local dialogue going to understand the resident's wishes for the site compared to the plans of his company. Villagers had already obtained ACV listing for the pub earlier this year. At Congresbury Mezze have exited the Ship & Castle and Mark and Sarah have returned after five years away. The long closed Campbell's Landing in Clevedon is rumoured to be turned into flats and in Weston-super-Mare the Bristol House has been purchased by decorating firm Proper Job. The owner has always had an interest in pubs and recognises this opportunity to create a pub of his own, so ending the uncertainty that has dogged it for the last several years during which the supermarket chains, Tesco and the Co-Op, have both attempted to convert it into a shop but have fallen to strong well-supported campaigns that showed the will and desire of the community.
Please note that what is written here will go out of date so always check whatpub.com before you travel, and if you have any updates then please let us know.
And, remember that pub you always meet in before your Christmas do? Well it's shut, it closed last March and you didn't know. This could happen to your trusted pub, please support them all year round and not just for the festive celebrations!
Enjoy the season's pub festivities
Mike Jackson, for the Bristol Pubs Group