Pub News - from Bristol Pubs Group - Spring 2017
One of the oldest buildings in Old Market, pre-dating 1700, has finished as a pub. It was last known as The Lounge but had been Pride, Mason's Arms and Chequers before that. This listed building has been converted into an office by the City Fox taxi company apparently with minimum consultation. Just off Old Market in Broad Plain the long-closed Printers Devil (note the missing apostrophe) has a planning application pending for a refurbishment that extends into Goldsmith House next door. The whole development which includes numbers 5 to 10 is earmarked for use as A3, A4 and B1. A4 does include public houses but we don't know if this includes a traditional or community pub or a continental style-bar but we look forward to new life being injected into the Printers Devil which closed in 2008.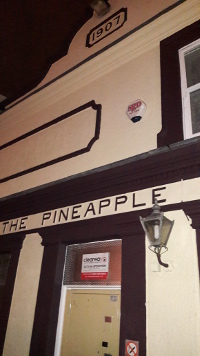 In the West End the Pineapple has closed again and is boarded up but we are told it will re-open soon, probably as something else, perhaps a wine bar or similar. The Hope and Anchor on Jacob's Wells Road has been relinquished by its owner who is going to concentrate his efforts into exciting developments at his other pub, the Bristol CAMRA branch Pub of the Year, The Volunteer Tavern in St. Judes. The Hope and Anchor will now be ran by James and Chris, formerly of the Cornubia. We have received information that the Kingsdown Wine Vaults will be closed by the end of June as the new owner of the building does not want it to be a pub anymore, it is the view of the informant that it will be proposed to convert it into flats although there is interest from at least one potential licensee to take the pub on so it may continue serving the community.
The Prince of Wales in St. Paul's is undergoing conversion into a café, recording studio and housing while the Merchant's Arms in Stapleton has closed and it has been sold by Greene King.
Meanwhile Greene King has spent a lot of money, a reported £ 300,000, refreshing and changing the image of the former Duke of York on Horfield Common. They have re-opened it as the Crafty Cow as a family diner, community pub and day-time café style meeting place with up-to-date décor and improvements all round, and also benefits from a leisurely garden.
In Fishponds the Morrison's owned Farrier's Inn is being offered 'To Let' by Maggs & Allen. This pub has been closed for many years and has been at the centre of controversy because of change of use proposals and squatters. It is now encouraging to see that it has a chance of a return to community pub use. Bristol Beer Shop which occupies the former Cross Keys pub on Fishponds Road is for sale. The owner, Lewis, tells us that he has just acquired an on-licence and had plans to use the former pub cellar for some sort of tap room venture.
Plans are in place to convert the Imp in Southville from a popular pub into upper floor flats, housing in the garden and the ground floor possibly sub-let as a café/bar which could be operated by a community interest company. In Brislington the planning application to convert a retail unit into Bristol's third micro pub has been withdrawn and it appears that the applicant may not follow up with another plan of this type. Meanwhile, however, the former Pilgrim has changed name to the Hollywood Tavern and has had its layout moved around. Pool and darts still available along with Sharp's Doom Bar on the bar counter. The Salutation at Henbury closed in January but will re-open following refurbishment by the Stonehouse pub chain as the Henbury Arms, with a speciality for pizza and carvery.
The Tern Inn at Chipping Sodbury has been granted 'Asset of Community Value' (ACV) listing by the local authority following a groundswell of support for this popular and well used pub. The developer, who wants to clear the site and build 28 homes, is in appeal of the decision. It is highly important that this pub is retained as the community has made a clear statement of their need for it by submitting well over 200 objections to the outline planning application that the developer submitted. Just into the new year the Railway at Yate closed and was immediately boarded up and hoarding placed around. Since then a planning application PK17/0888/PND has been made by UKS Group Ltd to demolish this locally listed pub and its outbuildings. The Live and Let Live at Frampton Cotterell has a new owner. The pub re-opened in December under the control of local lady, Karen, who brings local knowledge and business experience. The place has been brightened up and is serving up to three changing real ales from the likes of Fuller's, Butcombe and Elgood's among others. It has an all-welcoming village hub feel to it and has a policy of supporting 'unconventional charities'. There are regular music and entertainment nights, TV sports, and a team in the local darts league. The installation of a kitchen and outdoor furniture is imminent.
We have received news that the White Horse at Hambrook has received a significant joint investment from the new publican and Enterprise Inns. This is the third Enterprise Inns/publican partnership taken on by the already-owner of two Clifton pubs and is due to open in March following significant transformation. The Duck & Willow in Downend is impressing with its fresh image as a local community hub that enjoys an injection from destination diners and travelling imbibers.
After an encroaching process of site fragmentation, planning permission has finally been granted for the Tennis Court Inn at Kingswood to become housing along with the rest of the site. The Anchor Made Forever in Kingswood is undergoing conversion into a nursery and another casualty in South Gloucestershire is the Royal Archer in Kingswood, it was demolished back in the autumn. South Gloucestershire is our point of focus at the moment as 21 pubs have been permanently lost so far in the last eight years.
Enterprise Inns is selling the Cross House in Doynton. The Asset of Community Value is to be disposed of but as the only pub in the village it is an essential asset for the village. The nearest pub, in Wick, is a treacherous 1.5 mile walk away along unlit roads with no pavements.
The Malthouse is the new name on the Thornbury pub scene since its opening in December from what had been the Knot of Rope. Marston's have spent £100,000 on a refurb and are presenting a spick and span look. Up to four ales are available from the extended Marston's portfolio.
In North Somerset the Lord Nelson at Cleeve has been bought by Tout's Budgens, the mini-market specialist. They are in consultation with villagers and pub users to form a plan for the site. As the village's only pub and a popular one at that we conclude that there should be only one outcome of these talks based on the fact that Asset of Community Value listing has already been gained for the Lord Nelson by local people with the assistance of a petition of nearly 700 signatures! Other pubs for sale in the region are the Bristol House in Weston super Mare at £400,000 with Fluerets and the Plume of Feathers in the tiny Somerset village of Rickford is offered at £625,000 with agent Stonesmith Property Specialists. The long closed Pioneer in Keynsham is undergoing conversion into housing but it's all change at the Warwick Arms at Clutton which is no longer a Mezze restaurant, the site has been passed onto Jackie and Raj who will be serving their twist on traditional pub food.
Kev Williams has told us that the Borough Arms at Weston-super Mare is now under new management, with reduced ale prices. Serving at the moment is one changing beer but ale trade is up and a second changing ale is to be introduced soon. The Good Beer Guide listed Two Pigs at Corsham closed late 2016 and has now been granted change of use, a sad loss for this popular pub.
Last quarter we reported on the closure of local Heritage Pub the Red Lion at Ampney St. Peter in Gloucestershire. The latest from our Pub Heritage Group is that this rare rural gem has been granted ACV status thanks to a CAMRA campaign. The owner has notified the Council of the intention to sell, so a group is being organized to register its interest in bidding. The group is called Cotswold Taste (CT). What they have in mind is a Drewe Arms (a pub in Drewsteignton, Devon) type of operation with the historic core preserved and something upmarket and gastro built around it. We await a successful outcome.
Mike Jackson, for the Bristol Pubs Group