Pub News - from Bristol Pubs Group - May 2017
The Colston Yard is closed and for sale so the future plan is unknown, the pub benefited from a major investment recently so one would hope for continued success should it re-open. Behind the City Hall, close to the Lime Kiln, the Pineapple is still for lease with Fleurets.
Peter Gibbs at the Volunteer Tavern in St. Jude's tells us "as you know I have been planning an expansion at the Volunteer for a number of years, and now it is about to happen!" so Peter organised a sharing of the plans with friends, family and customers who have supported him over the years on Bank Holiday May Day. We look forward to the outcome of these ambitious and exciting plans.
The Bristol Pubs Group were successful in achieving 'Landmark Building' status for the Stag & Hounds a few years ago and since then it has become an important pub on the western entrance to Old Market. Following an indifferent period of licensee changes and variability it found favour as a live music venue and has enjoyed the last few years as a very popular destination. But the owners have pulled out of the pub to concentrate their business at the Mother's Ruin though a new licensee should have taken on the pub by the time you read this. Similarly the Kingsdown Wine Vaults is being vacated by the same people as the Stag & Hounds but there is interest from possible suitors to this Kingsdown pub.
We have just received reports that the Punch Bowl on Old Market Street is closed, if anyone has any details then please get in touch. The former Lounge (Pride, Masons Arms, Chequers) on Old Market Street is still dressed up as a City Fox taxi office but its conversion has been challenged on the grounds of no permission being sought for this Grade II listed building within a Conservation Area. A hundred meters away in West Street, a new bar called Dutch (in the building formerly known as Retreat) is serving St. Austell Tribute and 'diddy plates' (that's food, not a drink) as well as 300 different gins while the Gin Palace (Palace Hotel) has upped its game on gin offerings. The Printers Devil development is under construction on Broad Plain along with its neighbour, Goldsmith House. According to the plans a pub or bar should be included and we shouldn't have to wait too long to find out what is offered to us in this nine-years closed pub.
The Swan with Two Necks on Little Anne Street continues open and trading despite a report to the contrary in Bristol's major press publication during March. And the Stapleton Road Tavern, which has been closed for at least 10 years, has had its exterior painted and pub signage reinstated.
The Red Lion at Clifton has had a turbulent time since the glory days when it was a must visit two roomed smart boozer more than a decade ago. Now a planning application is in place for its conversion into residential use, a shame for this once well-appointed public house. In Redland Chums celebrated its first birthday on 7th April and its Bristol micro-pub stable mate the Draper's Arms in Horfield is celebrating being named Bristol & District CAMRA's pub of the year. Less is definitely more for these two tiny pubs.
The Nook (formerly Velindra) in Redfield has closed. According to their Facebook page they are looking for the perfect chef to re-launch the food side of the business but in the meantime they are accepting bookings for private hire events. In Bedminster The Hare is for sale at £850,000. The pub is open as usual but after five years establishing a cracking pub the owner has decided to move on. We hope the next owner can continue this winning formula. Just along the road a collaboration between the Old Book Shop and Bristol brewer Wiper & True has seen the opening of a brand new cafe / bar in an old butcher's shop, the new bar is called The Old Butcher's Shop and is majoring its beer on Wiper & True's excellent choices as well as good beer from elsewhere. The Princess of Wales on Westbourne Grove remains closed but for let. The Shakespeare in Totterdown re-opened late April and the long-time closed George & Railway in Temple along with its neighbour The Grosvenor Hotel are the focus of a significant re-development of the island on which they sit. Demolition is planned for the Grosvenor while conversion of the George & Railway into bar, cafe, accommodation and retail use is intended. The Russell Arms in Ducie Road, Lawrence Hill is open but for sale with Fluerets. It is currently owned by Admiral Taverns. The Redfield Inn is undergoing a major piece of work to add dwelling space and re-configure the ground floor-plan to make better use of the public house trading area. Ultimately this should improve efficiency and secure the future of this long established pub. The Three Crowns in Blackswarth Road is troubled following a threat to the licensee to vacate the premises as (the threat is) the pub will close and become flats. The Bristol Pubs Group is supporting the licensee, regulars and the wider community in a bid to save the pub which is a significant pool league lead venue, it has an excellent in-tact interior, and attracts a diverse range of customers from the immediate community as well as further afield. It is, in short, a proper community pub.
Fishponds' Railway Tavern has its lease for sale but the pub is open as usual. This is a busy and characterful off-street pub which is visible from Fishponds Road if you look well enough when travelling near Lidl. We are told that Darren and Sarah are welcoming us all to the new-look Greyhound on Lodge Causeway, and there is a planning application submitted for a brand new micro-pub in an old retail unit opposite The Straits. John Fallon and David Sibley applied for planning permission to open the new pub, Snuffy Jacks' Ale House, in number 800 Fishponds Road. The guys tell us that there is reference to the connection with the miller called Snuffy Jack that used to mill on the River Frome in Snuff Mills and whose smock was always covered in snuff. The Farrier's Arms remains to lease with Maggs and Allen. The ex-Cross Keys in Fishponds is vacant following the exit of Bristol Beer Shop. With its licence for on-sales is there a chance that this could be revamped as a viable pub?
The Queen Vic on Gloucester Road closed following its sale at auction and the new owner has plans for it. We don't know what those plans involve but we are both saddened by the pub's closure and optimistic of what could be possible in this vibrant part of the northern city a stone's throw from the Draper's Arms.
There's plenty going on in South Gloucestershire, most notably that the local authority has not objected to the demolition of the Railway Inn at Yate. No replacement development has been suggested by the site owner so regarding the demolition of a locally listed building with an attractive frontage, potential for letting rooms with adaptable interior space, as well as a large car park, on the bus route, next to Yate railway station and with no other pubs within one kilometre, we might have expected the owner be told to go away and try harder to re-invent the pub into a modern forward looking and reliable establishment.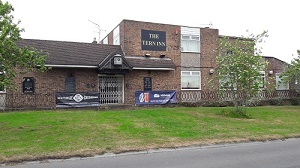 Chipping Sodbury's Tern Inn has a planning application hanging over it to demolish the pub and build 28 homes and the Portcullis in the high street has closed again. This large hotel with multi-rooms off of a central courtyard and a sheltered outdoor space has stacks going for it. Better news at Hambrook where the White Horse re-opened on 21st March after a couple of years closed. A substantial investment sees the pub neatly presented with a modern-traditional interior with plenty of space for the many diners that are visiting but with provision for drinkers with up to three real ales offered.
Yet another pub has closed in Kingswood, the Shant is the latest casualty, while the Chequers at Hanham has applied for the "erection of a first floor side extension to provide two additional visitor bedrooms and one additional staff bedroom, and the erection of a canopy over the existing ground floor terrace area and to raise the terrace by 400mm". The ei Group plc is the new name of Enterprise Inns and their Cross House in Doynton is for sale but remains open.
In North Somerset the George Inn at Abbot's Leigh had been temporarily closed for structural improvements but re-opened on the 26th May. Campaigners continue to apply pressure to save the Lord Nelson at Cleeve with new owner Jonathon Tout saying that a scheme to include a community focussed pub/cafe has been prepared in an effort to save the pub, thus turning it from a struggling beast into a thriving local hub. A planning application has been submitted by Lily Developments Ltd to change the use of the Bungalow Inn at Felton from mixed use of motel (C1) and public house (A4) to hotel (C1).
In Clevedon work starts in May to convert the ex Campbell's Landing into a restaurant and boutique hotel. The White Hart in Weston-in-Gordano is hosting a monthly market attracting local Somerset producers' crafts, flowers and other produce. The Star Inn at Tickenham has a new owner in Steve King who was previously at the Old Barn in Wraxall. I was still digesting Neil Ravencroft's excellent article 'Inn and around Portishead' in the last issue of Pints West when news came through of the re-opening of the White Lion on the High Street under the new name of Old Mill.
So that is the latest news in our branch area but if you know any more than us then please speak up. Pubs are still being lost at an alarming rate due to all sorts of reasons that the Bristol Pubs Group are trying to tackle but what we can all do is use them and support what they are doing, and with the summer upon us what better way is there to spend your time with friends and family than in the pub or pub garden?
Just over the border we have been informed by our Pub Heritage Group of the latest at the Red Lion at Ampney St Peter in Gloucestershire. The application for change of use was rejected by Cotswold District Council. The reasons given: loss of a very special local amenity and that non-viability was unproven as the pub had only been offered for sale at a dwelling price, while an offer for it as a pub, below the asking price, had been refused. Thanks to Rob Tough for this welcome news. So this story has some way to run, hopefully with some good outcome.
We'll drink to that…!
Mike Jackson, for the Bristol Pubs Group