This page contains the latest Pubs Group main article for Pints West. Previous articles are available in the archives section.
Pub News - from Bristol Pubs Group - May 2019
Well publicised in April was the withdrawal of Brewer's Fayre from the Llandoger Trow on King Street. The Whitbread company said that the site does not fit with their business model so they are not continuing their leasehold. This old building is an iconic Bristol pub, its long lease is being advertised by Christie & Co for £1m. The Grade II listed Pineapple, behind the City Hall, is set to become residential after approval of a planning application for its conversion into flats. Another historic city pub, the Butcombe owned Ostrich on Redcliffe Wharfside (check out the signage on the building's magnificent facade) closed for refurbishment in March but soon re-opened as a smart dining and casual drinking pub with the benefit of plenty of outside seating, the choice of seats even extends to stripy deck chairs if you so wish. We are reminded of its dock-side heritage by the extensive rum menu. On the beer front, Butcombe ales are, of course, offered.
Although it has been closed for 12 months, the Palace in Old Market is 150 years old this year. The spectacular Victorian interior behind the distinctly detailed edifice lends itself to being opened as an elaborate bar in this most interestingly diverse part of the city. Just along West Street from the Palace the Eagle Tavern is no more. This long closed pub has been converted into a Middle Eastern restaurant.
In St. Pauls the Criterion has re-opened. On the border with Montpelier we expect the Star & Garter to re-open at any time following an update and new exterior paint job. The Sugar Loaf on St.Mark's Road in Easton is not being leased by Zazu's Kitchen Pubs as previously reported, but by Martin Donlin who is independent from that pub chain. The Three Blackbirds on Stapleton Road is offered for sale by agent Stuart Hogg.
The freehold of the Lord Nelson on Aiken Street in Barton Hill is advertised with agent Fleurets. A bust of Lord Nelson once sat proudly on the corner of the building but is now a somewhat vulnerable and lonely figure since the pub's closure and subsequent decline. Barton Hill and neighbouring St. Philips had once been Bristol's hub of industry and the people that toiled therein were the providers of business to many pubs. But now we can only reflect upon the passing of the Royal Table, Forgeman's Arms, Russell Arms, Bunch of Grapes, Old Fox Inn and Coopers Arms which have all closed within half mile of Barton Hill. On the bright side, remainers are the Swan on Morley Street and the Rhubarb Tavern on Queen Anne Road in Barton Hill, and the Packhorse on Lawrence Hill, along with a good density of brewery taps.
The Bell in Redcliffe once again has a planning application for demolition and the loss of its site to housing. The likeable Velindra on Commercial Road closed some months ago but workers have been spotted doing something inside, fingers crossed for a welcome re-opening. But over the river, the Little Grosvenor closed recently, but temporarily, we hope. The Star & Dove on Totterdown's St. Lukes Road has re-opened following a prolonged closure and just up the hill, the New Found Out has introduced three changing guest ales. Following an apparent falling through of the sale of the Princess of Wales in Bedminster, it is now offered for sale again. On Windmill Hill, the Rising Sun is now run by the same good people behind the Steam Crane and the Golden Guinea. Its refurbishment sees it presenting up to three guest ales. St. Annes' only pub, the splendidly pillared and gable-fronted Langton Court closed in March for a two month refurbishment. Opening on May 10th owner Star (Heineken UK) have done a thorough job of refurbishing the interior to a smart modern standard, maintaining the darts, pool and skittles facilities and offering meals at lunch and evenings. Up to six ales and two real ciders are available which can be consumed in the refurbished garden. The ornate exterior frontage is as eye catching as ever.
JD Wetherspoon is marketing 16 pubs for sale nationally and St. George's Hall in Redfield is one of them. 'Spoons have said that the pub will remain open until a buyer is found. Meanwhile the same company is still forecasting the opening of a brand new super-pub on Gloucester Road in Horfield but permission does not seem to have been given so far.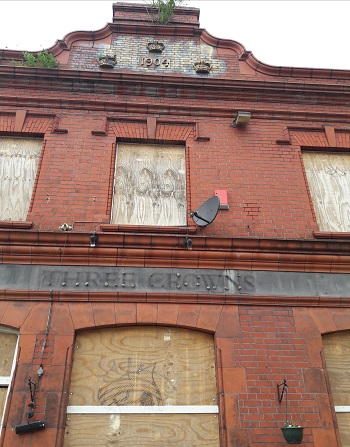 A planning application has been submitted to convert a much loved Asset of Community Value, the Three Crowns in St. George, into housing. On the border of Stapleton and Eastville, the Merchants Arms has had a skip outside with disposed air conditioning or ventilation fittings being loaded to it. Again, we await the owner - who has declared a hand to a housing conversion before - to make the next move. Still in Stapleton, the Old Tavern on Blackberry Hill has closed, and in Fishponds the imposing Portcullis is open but for lease with Star (Heineken UK). EI is reported to have a desire to re-open the Foresters Arms on Ashley Down Road in Horfield.
The long closed Adam & Eve in Hotwells has an application pending for the extension and conversion of the former public house to create four self-contained flats with associated refuse storage and cycle parking. On Whiteladies Road the Black Boy Inn has its freehold on the market for £495k. Another freehold available is that of the Giant Goram in Lawrence Weston. It is for sale with property agent Fleurets where offers are invited for this registered Asset of Community Value.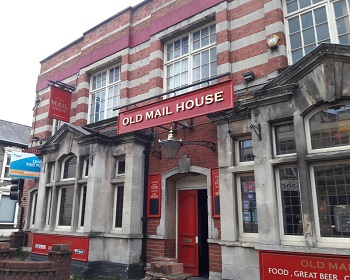 In South Gloucestershire, on Staple Hill's High Street the Portcullis and Old Mail House both have their leases available with Hawthorne Leisure and Star (Heineken UK) respectively, but are open as normal. In Kingswood an exciting new micro-pub called the Lyons Den has been created in an old charity retail unit on Regent Street. With its focus strongly on the micro-pub model, its un-cluttered space facilitates open conversation with the only distraction being an electronic display of the cask and keg beers as well as the real ciders that are offered. A report in an April edition of the Bristol Post said the freehold of the independently owned Langley Arms in Emersons Green is offered at an asking price of £1.5m by Christie & Co. The pub continues open and trading in the meantime. News came our way that the Carpenter's Arms at Wick is to be opened on a smaller scale, as a micro-pub. The Cross House Inn at Doynton is scheduled for re-opening in the summer with a new kitchen and restaurant as well as a fresh look throughout. The intention is that it will be a real village pub offering good food. Outside of our branch but still in South Gloucestershire, the Plough at Charfield has re-opened following a lengthy closure. The downsized internal space is being described as a micro-pub and is serving up to four cask ales in a single room.
Still closed in South Glos are the Old Flowerpot at Kingswood, the Crown at Hambrook, the Cross Keys at Yate, and the Tern Inn at Chipping Sodbury which has been under threat of demolition but has so far survived thanks to the strong and loyal support of its community which are proving the worth of this Asset of Community Value.
Tucked away from the main drag through Pensford, the fine Georgian former coaching inn, the George & Dragon, has its freehold for sale at £325k with Fleurets. Another George & Dragon, this one at Felton, has opened its bar after several years dormant, apart from a new on-site tea rooms that emerged last year. This large pub with letting rooms and restaurant could prosper with it sitting so close to Bristol International Airport.
The Lord Nelson at Cleeve remains closed but owner Mr. Tout's latest planning application for re-development of the site has been refused. 17 months of campaigning by the Cleeve local group has led to North Somerset Council's refusal on many reasons including:- the proposed demolition of the local heritage asset does not take into account the building's local heritage value of 1930's roadside public houses in the area and the evidence of both archival and historical association value. Also, the overbearing impact from the new building and excessive noise and light and pollution from the operation of the fuel filling station. And the proposed development will have an adverse impact on Greater Horseshoe Bat and Badger populations. Well done to North Somerset Council and the relentless campaigners at Cleeve!
The Cat and Badger micro-pub has opened in Weston-super-Mare at 3 Boulevard. It trades from Thursday to Sunday, offering four gravity fed ales and three real ciders. Not such good news in Weston's High Street is that two similarly named neighbouring pubs have closed, London Inn and London Oak shut up shop in April. We have been told by a Taunton CAMRA member that his visit to the White Hart at Cross found it re-opened with a good clean up and offering two real ales, Trelawny and Gem, but the landlord would like to present up to two more as demand dictates.
The Bristol Pubs Group congratulate our Branch winners of Pub of the Year. First place was awarded to the Barley Mow in The Dings, St. Philips and runner up was the Drapers Arms in Horfield. Congratulations also go to one of our members, Mark Steeds, for he and his family are celebrating 25 years at the Beaufort Arms at Hawkesbury Upton this summer.
As usual, check whatpub.com before you travel, especially for new and micro-pubs which can have short licensing hours. Most of all, enjoy your summer pubbing!
Mike Jackson, for the Bristol Pubs Group