Pub News - from Bristol Pubs Group - Spring 2017
One of the oldest buildings in Old Market, pre-dating 1700, has finished as a pub. It was last known as The Lounge but had been Pride, Mason's Arms and Chequers before that. This listed building has been converted into an office by the City Fox taxi company apparently with minimum consultation. Just off Old Market in Broad Plain the long-closed Printers Devil (note the missing apostrophe) has a planning application pending for a refurbishment that extends into Goldsmith House next door. The whole development which includes numbers 5 to 10 is earmarked for use as A3, A4 and B1. A4 does include public houses but we don't know if this includes a traditional or community pub or a continental style-bar but we look forward to new life being injected into the Printers Devil which closed in 2008.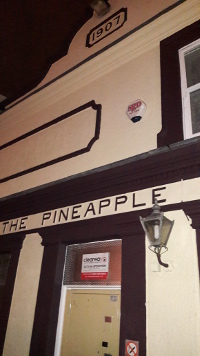 In the West End the Pineapple has closed again and is boarded up but we are told it will re-open soon, probably as something else, perhaps a wine bar or similar. The Hope and Anchor on Jacob's Wells Road has been relinquished by its owner who is going to concentrate his efforts into exciting developments at his other pub, the Bristol CAMRA branch Pub of the Year, The Volunteer Tavern in St. Judes. The Hope and Anchor will now be ran by James and Chris, formerly of the Cornubia. We have received information that the Kingsdown Wine Vaults will be closed by the end of June as the new owner of the building does not want it to be a pub anymore, it is the view of the informant that it will be proposed to convert it into flats although there is interest from at least one potential licensee to take the pub on so it may continue serving the community.
The Prince of Wales in St. Paul's is undergoing conversion into a café, recording studio and housing while the Merchant's Arms in Stapleton has closed and it has been sold by Greene King.
Meanwhile Greene King has spent a lot of money, a reported £ 300,000, refreshing and changing the image of the former Duke of York on Horfield Common. They have re-opened it as the Crafty Cow as a family diner, community pub and day-time café style meeting place with up-to-date décor and improvements all round, and also benefits from a leisurely garden.
In Fishponds the Morrison's owned Farrier's Inn is being offered 'To Let' by Maggs & Allen. This pub has been closed for many years and has been at the centre of controversy because of change of use proposals and squatters. It is now encouraging to see that it has a chance of a return to community pub use. Bristol Beer Shop which occupies the former Cross Keys pub on Fishponds Road is for sale. The owner, Lewis, tells us that he has just acquired an on-licence and had plans to use the former pub cellar for some sort of tap room venture.
Plans are in place to convert the Imp in Southville from a popular pub into upper floor flats, housing in the garden and the ground floor possibly sub-let as a café/bar which could be operated by a community interest company. In Brislington the planning application to convert a retail unit into Bristol's third micro pub has been withdrawn and it appears that the applicant may not follow up with another plan of this type. Meanwhile, however, the former Pilgrim has changed name to the Hollywood Tavern and has had its layout moved around. Pool and darts still available along with Sharp's Doom Bar on the bar counter. The Salutation at Henbury closed in January but will re-open following refurbishment by the Stonehouse pub chain as the Henbury Arms, with a speciality for pizza and carvery.
The Tern Inn at Chipping Sodbury has been granted 'Asset of Community Value' (ACV) listing by the local authority following a groundswell of support for this popular and well used pub. The developer, who wants to clear the site and build 28 homes, is in appeal of the decision. It is highly important that this pub is retained as the community has made a clear statement of their need for it by submitting well over 200 objections to the outline planning application that the developer submitted. Just into the new year the Railway at Yate closed and was immediately boarded up and hoarding placed around. Since then a planning application PK17/0888/PND has been made by UKS Group Ltd to demolish this locally listed pub and its outbuildings. The Live and Let Live at Frampton Cotterell has a new owner. The pub re-opened in December under the control of local lady, Karen, who brings local knowledge and business experience. The place has been brightened up and is serving up to three changing real ales from the likes of Fuller's, Butcombe and Elgood's among others. It has an all-welcoming village hub feel to it and has a policy of supporting 'unconventional charities'. There are regular music and entertainment nights, TV sports, and a team in the local darts league. The installation of a kitchen and outdoor furniture is imminent.
We have received news that the White Horse at Hambrook has received a significant joint investment from the new publican and Enterprise Inns. This is the third Enterprise Inns/publican partnership taken on by the already-owner of two Clifton pubs and is due to open in March following significant transformation. The Duck & Willow in Downend is impressing with its fresh image as a local community hub that enjoys an injection from destination diners and travelling imbibers.
After an encroaching process of site fragmentation, planning permission has finally been granted for the Tennis Court Inn at Kingswood to become housing along with the rest of the site. The Anchor Made Forever in Kingswood is undergoing conversion into a nursery and another casualty in South Gloucestershire is the Royal Archer in Kingswood, it was demolished back in the autumn. South Gloucestershire is our point of focus at the moment as 21 pubs have been permanently lost so far in the last eight years.
Enterprise Inns is selling the Cross House in Doynton. The Asset of Community Value is to be disposed of but as the only pub in the village it is an essential asset for the village. The nearest pub, in Wick, is a treacherous 1.5 mile walk away along unlit roads with no pavements.
The Malthouse is the new name on the Thornbury pub scene since its opening in December from what had been the Knot of Rope. Marston's have spent £100,000 on a refurb and are presenting a spick and span look. Up to four ales are available from the extended Marston's portfolio.
In North Somerset the Lord Nelson at Cleeve has been bought by Tout's Budgens, the mini-market specialist. They are in consultation with villagers and pub users to form a plan for the site. As the village's only pub and a popular one at that we conclude that there should be only one outcome of these talks based on the fact that Asset of Community Value listing has already been gained for the Lord Nelson by local people with the assistance of a petition of nearly 700 signatures! Other pubs for sale in the region are the Bristol House in Weston super Mare at £400,000 with Fluerets and the Plume of Feathers in the tiny Somerset village of Rickford is offered at £625,000 with agent Stonesmith Property Specialists. The long closed Pioneer in Keynsham is undergoing conversion into housing but it's all change at the Warwick Arms at Clutton which is no longer a Mezze restaurant, the site has been passed onto Jackie and Raj who will be serving their twist on traditional pub food.
Kev Williams has told us that the Borough Arms at Weston-super Mare is now under new management, with reduced ale prices. Serving at the moment is one changing beer but ale trade is up and a second changing ale is to be introduced soon. The Good Beer Guide listed Two Pigs at Corsham closed late 2016 and has now been granted change of use, a sad loss for this popular pub.
Last quarter we reported on the closure of local Heritage Pub the Red Lion at Ampney St. Peter in Gloucestershire. The latest from our Pub Heritage Group is that this rare rural gem has been granted ACV status thanks to a CAMRA campaign. The owner has notified the Council of the intention to sell, so a group is being organized to register its interest in bidding. The group is called Cotswold Taste (CT). What they have in mind is a Drewe Arms (a pub in Drewsteignton, Devon) type of operation with the historic core preserved and something upmarket and gastro built around it. We await a successful outcome.
Pub News - from Bristol Pubs Group - Spring 2016
With around 125 pubs permanently lost in our branch area in the past 10 years it is encouraging when a new pub comes along. But during the last quarter two new pubs have appeared in the city of Bristol. While the Old Market Assembly is a conversion of the former nightclub Flamingos, the Draper's Arms on Horfield's Gloucester Road is a brand new licensed premises - and Bristol's first dedicated micropub to boot. Occupying a space which had become a sad and sorry closed retail unit it had been a draper's shop not so long ago. And as evidence that the public enjoy a no frills pub with a choice of drinks that includes no national brands and no forced entertainment such as music and gaming machines, the pub is extremely popular and has settled in very quickly due in no small part to its excellent hosts, good décor and engaging conversation along with the local ale and cider. By contrast the Old Market Assembly does have all the thrills. A kitchen, a stage, mezzanine floor - and a theatre called The Wardrobe. Four local real ale hand pumps are arranged on the smart bar counter alongside the ciders and lagers offered from keg fonts. The open kitchen and servery tempts diners with its clean look and when the diners have had their fill the stage comes alive on entertainment nights. The mezzanine floor offers an alternative vista of the happenings below and a bit of space should you need it. It is run by the same people as at No1 Harbourside and the Canteen and it gives a new dimension to the dynamic of the Old Market scene.
The Palace Hotel in Old Market has taken out its hand pump. Real ale is available from micro-cask containers so ask what is on before you order. More central the former Elephant in St. Nicolas Street is now the Boardroom. This new European bar and dining concept is aimed at social grazers who are looking for seasonal light dishes alongside local ciders, craft beers and wines. Change has also taken place at the former Velindra in Redcliffe, now The Nook café bar it has been completely made over but we have not got any information on it at the time of this article going to press. Please take a look and let us know what you think!
Sadly I have to report that the popular Port of Call in Clifton closed at the start of the year and is 'To Let'. In Chandos Road, Redland popular former Bristol publican Mark Farrell has made an application to convert a closed shop into Bristol's second full-blown micropub. It would be great to see a micropub in this location especially as there is a bit of a gap in pubs in this locale. We wish Mark all the best with this venture. Back on Gloucester Road the former Foresters has re-opened as the Gloucester Road Ale House under the ownership of the Wickwar Wessex Brewing & Pub Company and has its trading area over two floors with a bar on each. Cask and craft beers, ciders and a full range of wet offerings along with a diverse menu can be found.
The recently refurbished Black Horse at Redfield is open but has been sold - subject to contract by Fleurets after being offered at £195,000. The Chequers at Kingswood has a planning application from Tesco. Local residents fought a good battle to quash a similar scenario a year or so ago but Enterprise Inns and Tesco seem intent to cause further irritation a second time around. For sale with James A Baker is the White Hart at Whitehall, this former Courage and Bass outlet closed earlier in 2015. A surprise closure has occurred at Caf&eacute Des Amies on the Whitehall Road, the good news is though, that it is re-locating to Easton Community Centre to open mid-March.
In the south of the city the smart corner building in Bedminster that is the Albert has been closed for a little while and has undergone a refurbishment as the Albert Lounge. Residents local to the Imp in Southville are passionate about their pub. It closed on 30th January and they want it back, so they are mounting a strong campaign which includes the seeking of registration of the Imp as an Asset of Community Value (ACV).
In Warmley the Station Master is now surrounded in scaffolding but its fate is not apparent but we understand that it may be set for demolition. Mystery continues to surround the Cherry Tree in Oldland Common. Having suddenly closed back in the autumn high fencing was erected and it probably changed hands after being offered for sale. There is now a planning application to develop the building into seven apartments with complete loss of the pub. This pub was very popular in the recent past and deserves to be once again. The Tennis Court Innat Kingswood remains closed and inactive. An application to list this pub as an ACV was rejected by South Gloucestershire Council in 2015 but there is a great deal of local support for it to return as a community pub and the Bristol Pubs Group whole heartedly backs this campaign. The owners of a pub that has been awarded ACV status have declared a wish to sell. The King William IV at Hallen in South Gloucestershire is the only pub for some distance, the nearest one being the Blaise Inn over the boundary in Bristol but it is a three mile journey to the nearest South Gloucestershire pub. Enterprise Inns, owners of the long closed White Horse in Hambrook, have been successful in gaining planning permission for new signage for this Grade II listed building. We will be pleased to see this popular and formerly well-used pub back in business.
In BANES the Pioneer in Keynsham is scaffolded. This pub has been closed for a couple of years but we don't know whether this latest progression is in favour of pub use. The Jolly Sailor at Saltford has new owners who are fully intending that it is business as usual under their ownership and are building upon the popularity that the pub has long enjoyed. In Chew Magna the Queen's Arms has been re-opened by Sally Valentine and her husband following a refurbishment at the back end of last year. Still Wadworth owned, local beer Butcombe Bitter is presented alongside Wadworth staples and seasonal ales while the restaurant accommodates those that wish to dine. Great news at Redhill where the Darlington Arms is under new ownership having been extensively refurbished where there appears to be something-for-everyone, with ales from regionals and local breweries alongside food, pub games and comfy seating. This pub has very often featured in this column with trepidation and fear that it could be lost forever. Now it has a great foundation for a prosperous future. Unfortunately the news at the Rising Sun at Backwell is that following closure its owner Punch Taverns is said to be considering redevelopment of the site, including the pub, into a mix of apartments and houses. Locals are campaigning against the plan and would like to see a new owner turn the place into a successful community-friendly pub business. The Rising Sun is for sale at a whopping £600,000. There are two other pubs in Backwell but one of those, the New Inn, is closed and has had plans for redevelopment rejected for now. Only the food led George would remain in Backwell if the Rising Sun and New Inn were to be lost.
If you're shopping in Cabot Circus or Broadmead and you fancy a beer then you may be a bit miffed that you need to leave the shopping area in order to get a decent pint. But consider this: when I started drinking the immediate choice around the shopping area was as follows;
Mail Coach, Bond St. Soulless Courage house offering Courage keg beer
Crown & Cushion, Penn St. Another 1950's Courage house similar to above
Greyhound, Broadmead. Historic pub selling even more Courage keg beer
King's Arms, Bond St. Small Courage pub - anyone for a pint of Courage BA?
Bunch of Grapes, Bond St. Music venue, The Stonehouse, was out the back
Prince Rupert, Fairfax St. Pre-night club meeting place. Lots of keg Courage
Wheatsheaf, Nelson St. 1960's concrete plastic-pub. Outlet for Toby Bitter
Malt & Hops, Broad St. Splendid cellar bar sold four West Country real ales
Rummer, High Street. Lively upper floor selling sought after real ales
Assize Court, Small St. Spacious trendy bar offering cocktails and keg Courage
Note that all the comments here are from my own memory so corrections are welcome! And beware, keg beer back then was definitely NOT akin to the new wave that it is now under its 'craft' moniker.
Mike Jackson, for the Bristol Pubs Group