This year we would like to encourage Bristol & District Branch CAMRA members to nominate their favourite pubs online for consideration in the 2014 Pub Of The Year competition. If you are a Bristol & District CAMRA branch member then please click HERE
Branch Pub Of The Year 2013 Results
The results of the Bristol & District CAMRA branch Pub of the Year 2013 competition were announced at the trade session of the 2013 Bristol Beer Festival (pictured below). The winner is the Plough at Congresbury, who were unfortunately not present at the time. The Runner-up is the Severn Stars, Bristol and Darren and Paul (on the left) were available to receive the temporary certificate.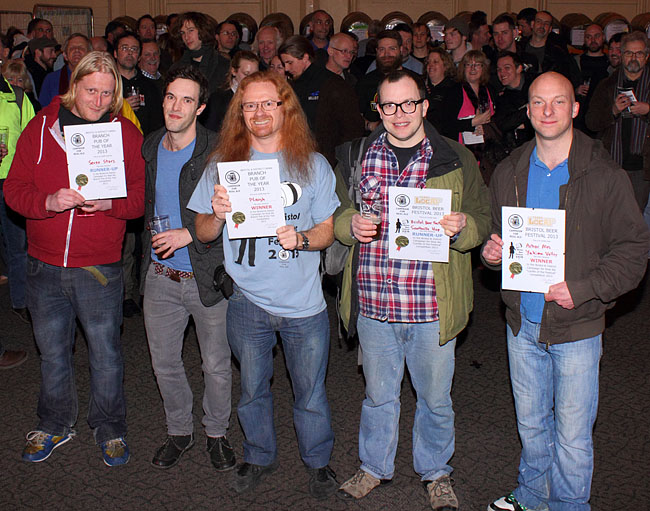 On the right of the picture representatives from the Bristol Beer Factory and Arbor Ales receive their temporary certificates for the LocAle of the Festival competition.
Proper presentations were subsequently arranged at the actual winning pubs. At the Plough at Congresbury Garry Polledri and his wife Charlotte were very pleased to receive the certificate for winning Bristol & District branch Pub of the Year. Gary said "I'd like to mention all the people at CAMRA that voted for us, I'd like to give a big thanks to all the staff especially my manager Mike Thomson and Tom Griffiths, as well as the head chef Nikki Newhill, Sharon Bailey for making the cake, and the bar staff Micah Searle, Will Poole ad my wife Charlotte. We'd also like to thank all of our customers that have helped us to achieve this."
At the Seven Stars Paul Wratten and Darren Kay received their certificate for being runner-up branch Pub of the Year. Darren commented that "They were grateful that all their hard work had been recognised".