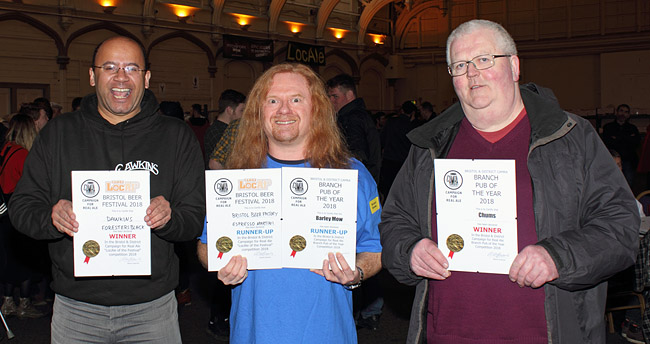 Mark Farrell of Chums (right) Richard Brooks and Glen Dawkins (left) with his certificate for Dawkins Foresters Black winning LocAle of the Festival.
The Bristol and District branch is pleased to announce that Chums (22 Chandos Rd, Redland, Bristol BS6 6PF) is our 2018 branch Pub Of The Year. The runner-up is the Barley Mow, St Philips, Bristol.
The local micro pub revolution evidently continues with Chums taking over as our new Pub Of The Year from last yearís winner the Drapers Arms. Pub Of The Year is the highest accolade the branch can give and of course serving top quality real ale is important, indeed a given, for such an award from CAMRA. However, a pub of the year has to deliver much more than beer and the judges will have carefully considered a range of factors including the service, welcome and atmosphere. It's about trying to identify which pub has that extra special something that makes customers really want to return. Anyone that has encountered Mark Farrell behind the bar will know that he is a welcoming host who is always up for friendly chat. As well as being our branch pub of the year, Chums will now go forward to the regional stage of the competition to find the national CAMRA 2018 Pub Of The Year.
Landlord Mark Farrell said ďItís great to have won CAMRA Pub Of The Year 2018 for the Bristol and District branch. I would like to thank all the people who have supported Chums since we opened nearly two years ago. We are having a party at Chums on Saturday 7th of April to celebrate our anniversary as we will have been open for two years. It starts at 7pm with food and some music from 8:30 pm. Hopefully we will have a good time and all welcome to join in the fun".
A quick presentation was also made to a (very busy) Barley Mow of their runner-up Pub Of The Year certificate, as well as the certificate for Bristol Beer Factory Espresso Martini being awarded runner-up LocAle of the festival: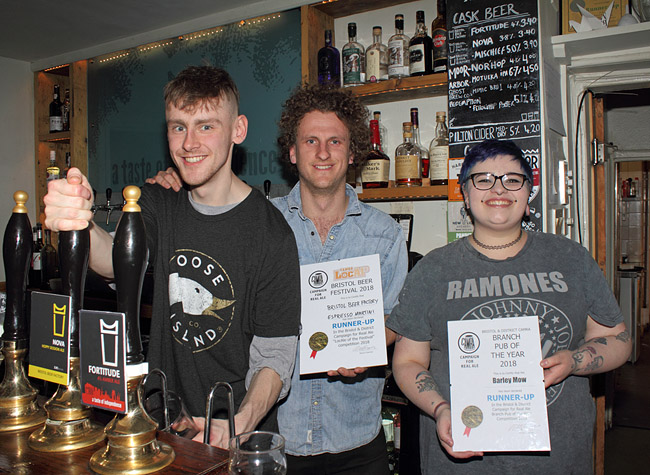 A trip to present the official versions of the Pub Of The Year and LocAle of the festival certificates will be arranged in the near future.