The results of the Bristol & District CAMRA branch Pub of the Year 2015 competition were announced at the trade session of the 2015 Bristol Beer Festival (pictured below). The winner is the Plough at Congresbury and the Runner-up is the Volunteer Tavern, Bristol.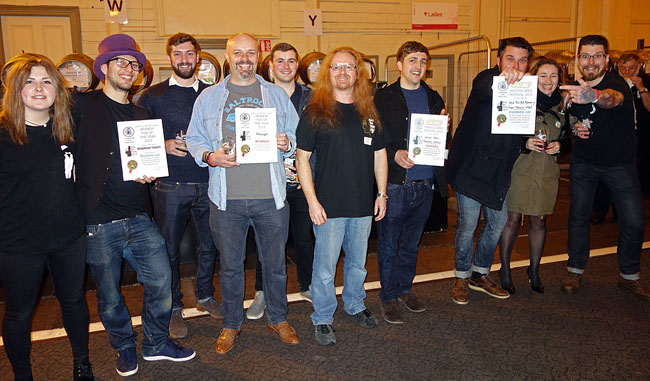 (Left to Right: Volunteer Tavern (Runner-up Pub of the Year) Plough (Winner Pub of the Year) Richard Brooks (Branch Chair) Arbor Ales (Winner LocAle of the Festival) New Bristol Brewery (Runner-up LocAle of the Festival
The Plough has now won the branch POTY competition for an amazing three years in a row, leading some people to ask how can this happen and what is it doing that is so different to other pubs? The answer is probably nothing specific - it just appears to be a welcoming, popular, capably run country pub that seems to do everything well (beer, food, atmosphere, customer service etc.) and ticks all the boxes for the judges when they do their assessment.
The Volunteer Tavern (located in New Street, Near Cabot Circus, Bristol) is a new entry as it claimed the Runner-up spot for the first time this year and they were clearly delighted with this.
Formal presentations will be arranged to both pubs in the near future.