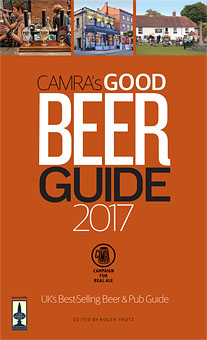 First chance to buy – the Good Beer Guide 2017 will be launched locally on Friday 16 September at the Lime Kiln, St George's Road in central Bristol. The cover price is £15.99 but for this day only it will be available at the bargain price of £13, or just £10 to card-carrying CAMRA members.
This is the 44th edition of the ever-popular Good Beer Guide, the only properly and independently researched guide to the best pubs for real ale and cider in the UK. A huge amount of legwork and dedication is put in by unpaid volunteers across the country in making sure that only the best ale pubs make it into this prestigious guide. The book aims to identify the best 4,500 pubs in Britain, including our allocation of 63 chosen by the local Bristol & District branch (covering Bristol and parts of South Gloucestershire and North Somerset)
The GBG contains information about pub facilities for families and the disabled, history, architecture, food, accommodation, local places of interest... and, of course, the beer: the best pubs serving the finest real ale in the country. Unique to the Guide – a list of every brewery in the country, large and small, with details of all the cask-conditioned and bottle conditioned beers they brew, with professional tasting notes.
There is also a full list of CAMRA's National Inventory of Pubs – pubs with interiors of outstanding historic interest. Helping to save these pubs for posterity.
All entries are surveyed on a regular basis by CAMRA members. Other guides may only send a questionnaire and are never visited. There is no charge for entry into the Good Beer Guide.
An entry in the Good Beer Guide is a stamp of approval from CAMRA and the Bristol & District branch take this seriously. The number one consideration for entry is consistently good quality real ale. We endeavour to survey all year round to check on this and hold an open and democratic selection meeting.
We certainly don't rest on our laurels, which is why there are new entries and deletions every year. These days there are many excellent real ale pubs in the Bristol & District branch area and competition is tougher than ever to secure a coveted entry in the Good Beer Guide. Some pubs will certainly be disappointed to find that they didn't make it into this edition.
If you would like to assist us in our never ending quest to find the best real ale pubs, please come along to a branch meeting (see the Diary page for details).
You can buy a copy of the Good Beer Guide from us at the launch, at a branch meeting or you can order one over the Internet from CAMRA by clicking HERE
If you have any feedback about existing or potential Good Beer Guide pubs in our branch area you can email Martin Gray: marting1@sky.com
The selection process used by the branch to arrive at our Good Beer Guide entries is documented HERE