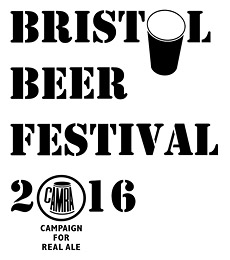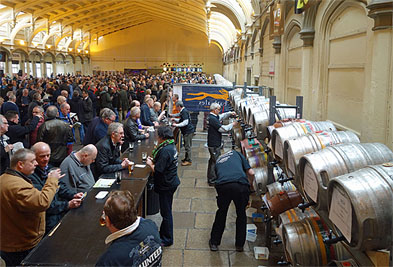 The nineteenth annual CAMRA Bristol Beer Festival will run from Thursday 10th to Saturday 12th March 2016 at Brunelís Old Station, Temple Meads, Bristol.
There will be a fantastic range of around 140 different real ales on sale over the course of the festival as well as a good selection of cider and perry. There will also be a variety of food available at all sessions.
Each year we see what tweaks and improvements we can make to the event. For the 2015 festival we made significant changes to the way tickets were sold and as this worked well we will be following the same model again this time. We have noticed that quite large queues have started forming before the Friday and Saturday evening sessions (which have opened at 7pm) so we are going to try starting them at 6:30pm for this festival. Also, as the attendance figures have increased for Thursday evening (the only session not to regularly sell out so far) we have decided to rent the venue for an extra day so we can set the beer up earlier. This should enable us to get as much beer as possible on for Thursday evening, so it will definitely be a top session to attend.
Please read the description for each ticket type to make sure you are buying the one for the session you want to attend.
Online purchases have a transaction processing fee for each ticket and and a postage charge for each order as tickets will be sent through the post. Buying multiple tickets in one purchase therefore works out a bit more cost effective than making separate purchases for individual tickets.
All ticket prices include £4 worth of beer festival tokens, which customers will receive on entry enabling them to go straight to the bar. Also included are a festival programme and a commemorative half pint glass, marked for third and half-pint measures.
UPDATE 09/02/16: Tickets for all sessions were initially available online, however following very brisk sales this morning tickets now only remain for the Thursday and Saturday evening sessions.
| | | | |
| --- | --- | --- | --- |
| Date | Session | Time | Cost |
| Thursday 10 March | Evening | 7pm - 11pm | £10 (incl £4 of tokens) |
| Friday 11 March | Lunchtime | 11:30am - 4pm | £10 (incl £4 of tokens) |
| Friday 11 March | Evening | 6:30pm - 11pm | £10 (incl £4 of tokens) |
| Saturday 12 March | Lunchtime | 11:30am - 4pm | £10 (incl £4 of tokens) |
| Saturday 12 March | Evening | 6:30pm - 11pm | £9 (incl £4 of tokens) |
We strongly advise keeping an eye on this website as it will feature further beer festival information including updates about ticket availability (including online sales) and the beer and cider lists as they become available.
If there are tickets remaining by Wednesday 24th February then some will be put on sale at the SEVEN STARS in Thomas Lane, Bristol.
Fancy volunteering to help at the beer festival? Click HERE
Click here to view Bristol Beer Festival 2015 pictures
2015 Beer Festival Programme can be downloaded here
Click here to view 2014 pictures on Facebook
Click here to view 2013 pictures on Facebook
Click here to view 2012 pictures on Facebook
Click here to view 2011 pictures on Facebook
Click here for a video of the 2012 ticket sales at the Commercial Rooms
Click here for a video of the 2012 ticket sales at the Old Fish Market