2023 CAMRA

Bristol Beer Festival

16 to 19 November

City Hall, Bristol
The twenty fourth CAMRA Bristol Beer Festival is now on Thursday 16th to Sunday 19th November 2023 at City Hall, College Green, Bristol. There will be a carefully chosen selection of around 80 different real ales on sale over the course of the festival as well as a range of around 30 ciders and perries.
Tickets are on sale now and can be purchased by clicking HERE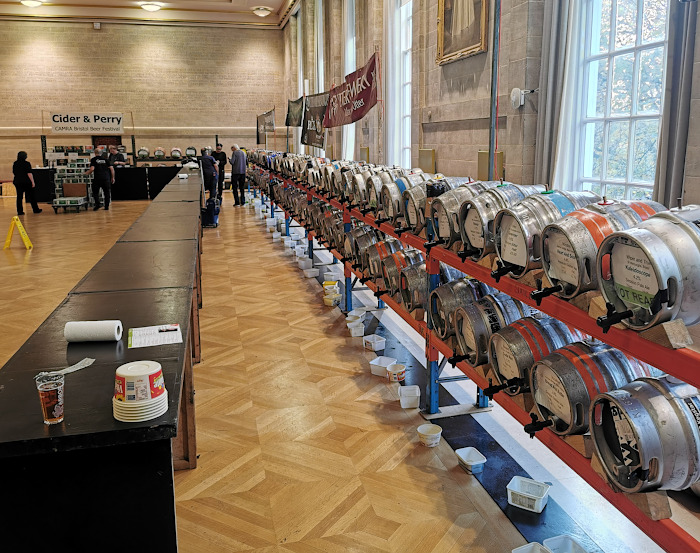 Picture taken 15 November 2023!

This year there is a new Friday lunchtime session which has already sold out. Ticket prices for the other sessions are unchanged from last year with Thursday, Friday and Saturday costing £14 and tickets for the session on Sunday afternoon costing £11. Tickets for all sessions include £5 worth of beer festival tokens, which customers will receive on entry enabling them to go straight to the bar. Also included are a festival programme and commemorative glass. Please note that as the branch still has a large stock of unused glasses that we had made for the 2020 beer festival (which was cancelled due to the COVID-19 pandemic) these will be used for this festival. On presentation of a current membership card when entering the festival, CAMRA members will also receive a voucher on entry for a half pint of beer up to 5% ABV.
In light of customer feedback that at the peak of some sessions of the 2022 festival it felt a bit too crowded, the overall number of tickets on sale per session has been reduced. The festival organisers are aware that some people prefer Brunelís Old Station at Temple Meads as a venue, however it is not currently available for hire.
IMPORTANT
When buying tickets please double check that you have selected the correct session(s) that you want to attend and that you enter your email address correctly.
We strongly advise keeping an eye on this website for further beer festival information including updates about ticket availability and the beer and cider lists as they become available.
| | | | |
| --- | --- | --- | --- |
| Date | Session | Time | Cost |
| Thursday 16 November | Evening | 6:30pm - 11pm | £14 (incl £5 of tokens) |
| Friday 17 November | Lunchtime | 11:30am - 4pm | £17 (incl £5 of tokens) |
| Friday 17 November | Evening | 6:30pm - 11pm | £14 (incl £5 of tokens) |
| Saturday 18 November | Lunchtime | 11:30am - 4pm | £14 (incl £5 of tokens) |
| Saturday 18 November | Evening | 6:30pm - 11pm | £14 (incl £5 of tokens) |
| Sunday 19 November | Afternoon | 12:00 Ė 5pm | £11 (incl £5 of tokens) |
Tickets for the Friday lunchtime, Friday evening and Saturday lunchtime sessions are SOLD OUT.
Code of Conduct
CAMRA has produced a Code of Conduct that applies to everyone attending a CAMRA beer festival, including ours. You can read it HERE
Click the following links for the:
BEER ORDER (updated 15/11/2023)

Some judging sessions were organised by the branch tasting panel and the cider team and the results of their deliberations were as follows:
1st Elland 1872 Porter
2nd Orkney Dark Island
3rd Long Man Rising Giant APA

4th Cumbrian Ales Loweswater Gold
Cider of the festival: Dorset Nectar Sweet Maiden
Trade Session
In addition to the public sessions there will be a 'Trade session' on Thursday 16th November which will start at 1pm and end at 4pm. The session is intended for brewers and the allied trades but we would also like to hear from publicans with an interest in real ale who may wish to attend. For more information or to register interest to attend please contact tradesession@camrabristol.org.uk.
The 2022 CAMRA Bristol Beer Festival took place from Thursday 17th November to Sunday 20th November at City Hall, College Green, Bristol. This is where the festival was held for the first few years before moving to the larger venue of Brunelís Old Station at Temple Meads. This was our first branch beer festival since 2019 (the 2020 event was cancelled due to the COVID-19 pandemic) and it was great to be back!
Due to moving to a smaller venue (Brunel's Old Station at Temple Meads was not available for hire) some compromises were necessary, such as the number of food vendors and not having a separate LocAle bar. But overall the festival went well and was a great team effort, with lots of unpaid CAMRA volunteers pitching in at fairly short notice to make it happen. Very well done everyone!
Sponsorship deals help to balance the festival budget and keep prices down for customers, so a big thank you to the main sponsors Arbor Ales and Exeter Brewery and all the other pubs and breweries that took out adverts in the programme or sponsored sections of the stillage.
A branch member kindly managed to arrange a presentation of the third place certificate at Fyne Ales brewery in rural Argyll (Scotland):
Click here to view Bristol Beer Festival 2019 pictures
Click here to view 2018 pictures
Click here to view 2017 pictures
Click here to view 2016 pictures
Click here to view 2015 pictures
Click here to view 2014 pictures
Click here to view 2013 pictures
Click here to view 2012 pictures
Click here to view 2011 pictures
Click here for a video of the 2012 ticket sales at the Commercial Rooms
Click here for a video of the 2012 ticket sales at the Old Fish Market