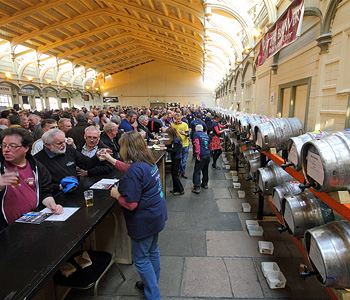 Click here to view Bristol Beer Festival 2017 pictures
The twentieth annual CAMRA Bristol Beer Festival ran from Thursday 23rd to Saturday 25th March 2017 at Brunelís Old Station, Temple Meads, Bristol - and what a great event it was! Tickets for three of the five public sessions literally sold out within a few hours of going on sale and all the remaining tickets sold out well in advance of the festival, demonstrating the high level of demand. Behind the scenes there were a few logistical issues that made life interesting for the organisers, however challenges were overcome and a great range of real ale, cider and perry was presented to the enthusiastic crowds. New for this year was a Beer Festival App (available on Android and iOS) which seemed to prove very popular with those attending the festival.
At the Thursday afternoon trade session the results of the Bristol & District CAMRA branch Pub of the Year 2017 competition were announced (winner Drapers Arms, runner-up the Lime Kiln) as well as the results of the LocAle of the Festival competition. New Bristol Brewery Super Deluxe Stout wowed the judges (including guest judge Ashley Fox MEP) with its rich coffee and vanilla flavours and was named LocAle of the Festival. Bath Ales Prophecy was awarded runner-up in the competition.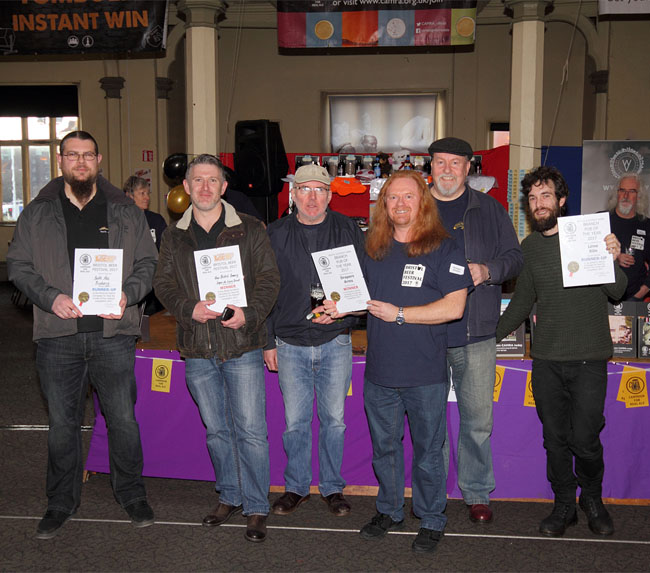 The range of beer available tends to vary across the festival as some beers can take longer than expected to be in quite the condition that we are happy to sell them and of course beers do sell out. The festival opened to the public on Thursday evening with 125 different real ales on sale. The final session on Saturday evening opened with 103 real ales and closed with 64 still available. So once again, there was still a good number of beers right up to the very end.
Thanks should be noted for all the unpaid CAMRA volunteers that put in the time and effort to organise and run the event. We would also like to record our gratitude to the 2017 event sponsors Purity (glasses) St Austell/Bath Ales (staff T shirts) RCH (beer festival app) Bristol Beer Factory (beer tokens) Wye Valley (games) and Castlecombe (cellar team T shirts). Plus a special mention for Rab Clarke of the Eldon House for supplying the bar counters.
Charity donations from customers in the form of cash or unused tokens were up this year totalling £1,663.48 which was shared evenly between the National Autistic Society and PROPS (a local charity providing opportunities and support for those with special needs).
Click here to view Bristol Beer Festival 2017 pictures
On Sunday 5th February 2017 tickets went on sale to CAMRA members in Bristol and Weston-super-Mare. Tickets for the Friday lunchtime and Saturday lunchtime sessions SOLD OUT. The remaining tickets were made available online on Tuesday 7th February and tickets for the Friday evening sold out in an hour.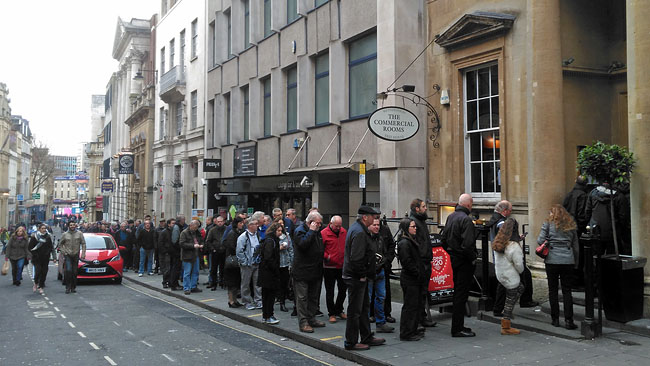 The 2017 Beer Festival Programme is available to download.
Click here to view Bristol Beer Festival 2017 pictures
Click here to view 2016 pictures
Click here to view 2015 pictures
Click here to view 2014 pictures
Click here to view 2013 pictures
Click here to view 2012 pictures
Click here to view 2011 pictures
Click here for a video of the 2012 ticket sales at the Commercial Rooms
Click here for a video of the 2012 ticket sales at the Old Fish Market