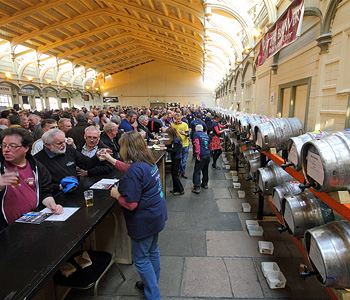 The twenty second annual CAMRA Bristol Beer Festival ran from Thursday 21st to Saturday 23rd March 2019 at Brunelís Old Station, Temple Meads, Bristol. For the first time the festival was expanded to six public sessions with the addition of an extra session on Thursday lunchtime.
CAMRA Bristol Beer Festival 2019 LocAle of the Festival results
WINNER New Bristol Brewery Irish Cream Stout.
RUNNER-UP Good Chemistry Extra Special (ESB).
Bristol and District branch Pub Of The Year 2019 results
WINNER The Barley Mow, 39 Barton Rd, St Philips, Bristol BS2 0LF
RUNNER-UP The Drapers Arms, 447 Gloucester Rd, Bristol BS7 8TZ
The winners are pictured below with their temporary certificates that were presented at the Bristol Beer Festival. A trip to present the official versions of the LocAle of the festival and Pub Of The Year certificates will be arranged in the near future.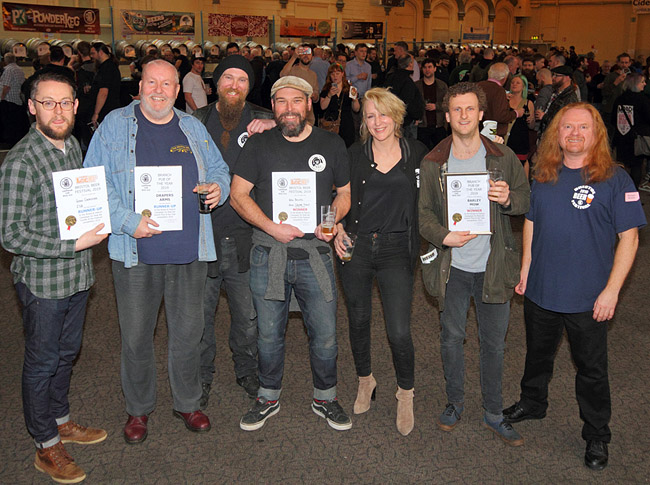 Click here to view Bristol Beer Festival 2019 pictures
Click here to view 2018 pictures
Click here to view 2017 pictures
Click here to view 2016 pictures
Click here to view 2015 pictures
Click here to view 2014 pictures
Click here to view 2013 pictures
Click here to view 2012 pictures
Click here to view 2011 pictures
Click here for a video of the 2012 ticket sales at the Commercial Rooms
Click here for a video of the 2012 ticket sales at the Old Fish Market