Bristol Heritage Taverns Trail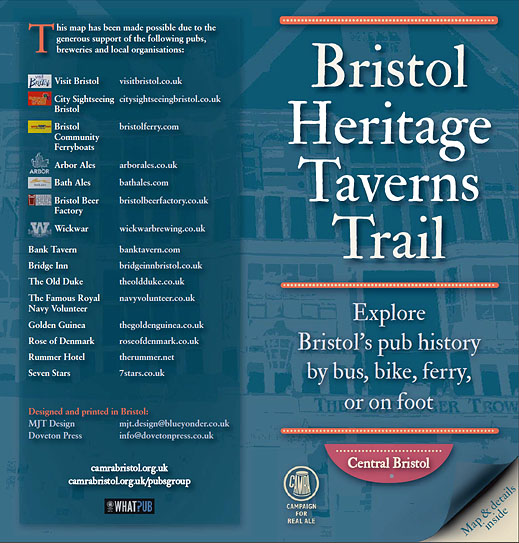 Discover a whole new side to Bristolís central pubs. On Friday 20 June 2014 members of the Bristol and District branch of CAMRA (the Campaign for Real Ale) and Bristol Pubs Group launch their Heritage Taverns Trail. Featuring over 30 pubs in the central Bristol area this free guide for visitors and locals alike contains a host of fascinating facts and quirky tales that surround our drinking establishments in central Bristol.
Launched to coincide with Bristol Green Week, the trail features sustainable travel options so you can stroll or cycle, take a ferry or hop on the open top tour buses to get around the city centre. Enjoy a pint or two along the way as you discover the hidden heritage of our hostelries. On Friday 20 June you can pick up the trail from the Tourist Information Centre from 1pm where youíll be able to meet the team of volunteers who created the map. After that youíll find the map in several venues including the Tourist Information Centre, Bristol Ferry Boat offices, Bristol City Sightseeing buses and several of the featured pubs.