The Orchard Inn (Hanover Place, Harbourside, Bristol, BS1 6XT) has been named CAMRA South West Cider Pub of the Year 2016/2017 and the presentation of the certificate took place at the Orchard Inn on Wednesday 29 June
The Orchard Inn is a back street boozer near the SS Great Britain that features cider, perry, real ale, live music, food and a quiz night – out of which the main focus is clearly the excellent range of cider chosen by landlord Stuart Marshall.
The judges of the CAMRA South West Cider Pub of the Year competition were impressed by the warm welcome, the knowledge of cider and perry and the range offered which is clearly displayed on a blackboard at the Orchard Inn. The competition was stiff and covered pubs over the whole region from Cornwall to Gloucester and Wiltshire, with the Orchard Inn beating several other establishments who in themselves would have been worthy winners. So we say congratulations to the Orchard Inn!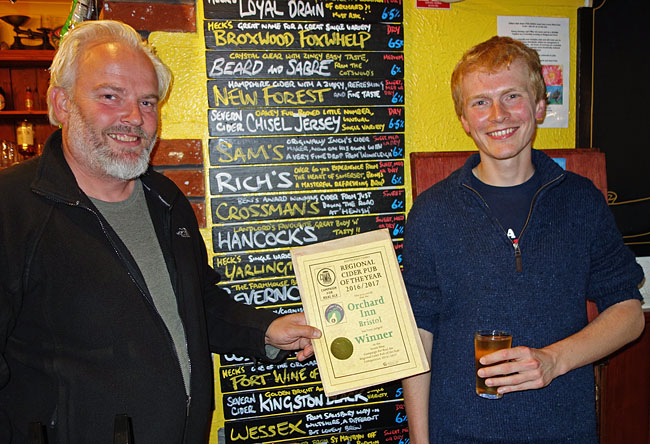 Pictured are Stewart Marshall (left) and Bristol & District branch APPLE/Cider rep Nick Jarman.