Great British Beer Festival at Your Local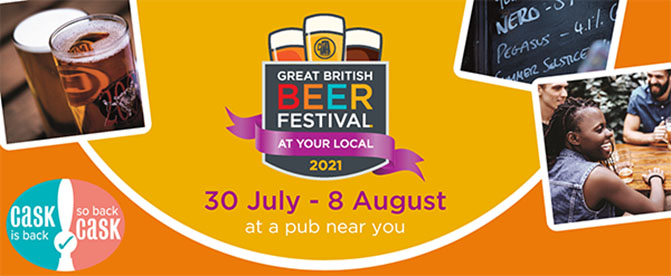 The CAMRA ďGreat British Beer Festival at Your LocalĒ runs from Friday 30 July to Sunday 8 August. This is an initiative to promote pub going and many pubs have signed up to put on events such as stocking a guest beer or cider or even running a beer festival. You can search to see what is happening local to you by going to local.gbbf.org.uk/whats-on New events are still being added so itís worth continuing to check over the course of next week. Please try to support the pubs that are taking part and encourage your local to join in and register if they havenít already.
As CAMRA branches are allowed to start holding face to face gatherings again, Bristol & District has arranged a few social events for next week during the Great British Beer Festival at Your Local. Doubtless some people will have concerns about COVID-19 and we have tried to focus on pubs with outdoor drinking areas to keep things as well ventilated as possible. As ever please get fully vaccinated and follow the official guidance on testing and isolation. Letís all make sure to follow any requests or policies that individual pubs may have decided to apply to keep staff, customers and indeed their business safe. No one wants to see pubs closing again due to COVID infections or, worse still for pubs and the hospitality industry in general, another national lockdown.
Tuesday 3rd August Pub Walk 1
Meet 7:30pm at The Cornubia 142 Temple St, Redcliffe, Bristol, BS1 6EN in the outside area: Look for the CAMRA table with the small Union Jack Flag. Then on to the Seven Stars, The Barley Mow and finish at the Old Castle Green in Old Market.
Wednesday 4th August Snuffy Jackís Ale House Pub Of The Year
Much delayed branch Pub Of The Year presentation to Snuffy Jack's Ale House, 800 Fishponds Rd, Bristol, BS16 3TE. Arrive as early as you like, the presentation will take place after 8pm. Later we will take the short walk to the Cross Hands.
Thursday 5th August Pub Walk 2
Gather from 7pm at the Lime Kiln 17 St George's Rd, Bristol BS1 5UU. Depart around 7:45pm to the Hatchet, Llandoger Trow and finish at the Shakespeare, Prince Street for their beer festival.
The local events that you can find on the Great British Beer Festival at Your Local hub include the following (please check the individual listing or contact the pub for dates or other details):
Backwell Village Club: Guest real cider and a mini beer festival
Brewhouse & Kitchen: Meet the brewer session and specially brewed cream cask ale
Chums: Guest ale
Commercial Rooms: Guest ale
Cornubia: Guest ale
Drapers Arms: Range of 31 gluten free cask ales across August
Gryphon: Guest ale
Hare Brewery (Bath Ales): Mini beer festival, meet the brewer session and brewery tour
Hatchet Inn: Guest ale
Lazy Dog: Real cider special promotion, meet the brewer session, beer/cider tasting
Lime Kiln: Guest ale
Llandoger Trow: Guest real ale and guest real cider
Nailsea Micropub: Guest real cider and a mini beer festival
Seven Stars: Beer festival
Shakespeare Tavern: Beer festival
Snuffy Jack's Ale House: Some interesting guest ales sourced from further afield
Further information and resources are available for CAMRA members in the Festival Hub.