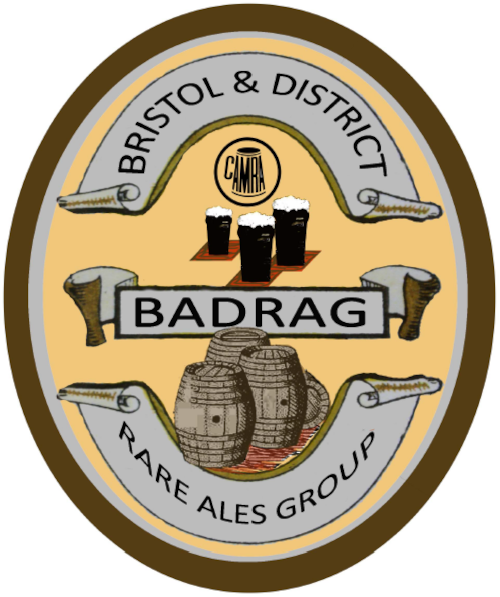 BADRAG campaigns for bars to give space to rare styles of real ale, in particular dark beers such as mild ales, stouts and porters, plus the even rarer old ales and barley wines.
We run a Mild Ale Promotion Campaign, Mild Time, in November.
When you can't go out to get cask BADRAG ales, try the following BADRAG-style ales available in bottles, cans, bag-in-boxes and mini-kegs. Many are available in off-licences and supermarkets where shown
.
| Brewer | Ale | ABV % | Style | Dispense | Source |
| --- | --- | --- | --- | --- | --- |
| Abbey Ales | Black Friar | 5.3 | Traditional English Stout  | Bottles | |
| Arkell's | Mustang Black | 4.2 | Stout | Bottles | |
| Bath Ales | Dark Side | 4 | Stout | Bottles | |
| Bath Ales | Festivity | 5 | Porter | Bottles | |
| Blindmans | Icarus | 4.5 | Ruby Ale | Bag-in-box | |
| Boss | Boss Brewing Black | 5 | Stout | Bottles | |
| Box Steam | Funnel Blower | 4.5 | Vanilla Porter | Bottles | |
| Brains | Dark | 3.5 | Mild | Bottles | |
| Brains | The Rev. James Original | 4.5 | Old Ale | Bottles | |
| Bristol Beer Factory | Hefe | 4.8 | Wheat Beer | Bottle-conditioned | |
| Bristol Beer Factory | Milk Stout | 4.6 | Milk Stout | Bottle-conditioned | |
| Bristol Beer Factory | Russian Imperial Stout | 10 | Imperial Stout | Bottle-conditioned | |
| Bristol Beer Factory | Ultimate Stout | 7.5 | Belgian Stout | Bottle-conditioned | |
| Butts | Butts Blckguard Porter | 4.5 | Porter | | |
| Clevedon Brewery | Mild mannered | 3.8 | Mild | Bottles or Bag-in-box | |
| Clevedon Brewery | Percy's Porter | 4.4 | Porter | Bottles or Bag-in-box | |
| Exmoor | Beast | 6.6 | Porter | Bottles & Polypin | |
| Exmoor | Stag | 5.2 | Old Ale / Strong Bitter | Bottles & Polypin | |
| Fine Tuned Brewery | Twist & Stout | 4.5 | Stout | Bottles | |
| Frome | Zig Zag Stout | 4.5 | Stout | Mini-keg | |
| Fuller's | London Porter | 5.4 | Porter | Bottles | |
| Fuller's | Vintage Ale | 8.5 | Old Ale | Bottles | |
| Glastonbury | Black as yer 'at | 4.3 | Stout | Bottles | |
| Glastonbury | Equinox | 5.9 | Black IPA | Bottles | |
| Glastonbury | Thriller | 5 | Cappuccino Porter | Bottles | |
| Goffs | Black Knight | 5.3 | Porter | Bottles or Bag-in-box | |
| Good Chemistry | Storms Pass | 4.3 | Brown Ale | Bag-in-box | |
| Good Chemistry | Good Chemistry ESB | 5.6 | ESB/mild ale. Unfined & vegan. | Bottles | |
| Guinness | Foreign Extra Stout | 7.5 | Stout | Bottles and Cans | |
| GWB | Black Flower | 4.6 | Vanilla Stout | Bottles or Bag-in-box | |
| Hatherwood | The Purple Panther | 5 | Porter | Bottles | Lidl |
| Incredible Brewing Co | Milk Stout | 4.6 | Mild | Bottle-conditioned | |
| Incredible Brewing Co | Porter | 5.2 | Mild | Bottle-conditioned | |
| Incredible Brewing Co | Ruby Mild | 3.8 | Mild | Bottle-conditioned | |
| Left Handed Giant | Deeper Water | 5.1 | Milk Stout | Mini-keg | |
| Left Handed Giant | Solitude | 7.3 | Milk Stout | Cans | |
| Meantime | Chocolate Porter | 6.5 | Porter | Bottles | |
| Meantime | Moncada Impy Custard | 10.4 | Vanilla Imperial Stout | Bottles | |
| Moor | Stout | 5 | Stout | Can Conditioned & 5L Mini-keg | |
| Moor | Old Ale | 7.3 | Old Ale | Can Conditioned | |
| Otter | Otter Head | 5.8 | Old Ale | Bottles | |
| Pinkers | Birnbeck Porter | ? | Porter | Bottles | |
| Quantock | Plastered Pheasant | 4.8 | Dark Amber Bitter | Bottles | |
| Quantock | Quantock Stag | 6 | English Trad IPA | Bottles | |
| Quantock | Quantock Stout | 4.5 | Stout | Bottles | |
| Rhymney | Dark | 4 | Dark Ale | Bottles | |
| Robinson's | Old Tom | 8.5 | Old Ale | Bottles | |
| Sadler's | Hawkshead Bridie Prime Porter | 4.9 | Porter | Bottles | |
| Sadler's | Hawkshead Dry Stone Stout | 4.2 | Oatmeal Stout | Bottles | |
| Sadler's | Mud City Stout | 6 | chocolate and vanilla Stout | Bottles | |
| Sainsbury's (brewed by Shepherd Neame) | Sainsbury's London Porter | 5 | Porter | Bottles | Sainsbury's |
| Severn Brewing | Chocolate Stout | 4.3 | Stout | Bag-in-box & Mini-keg | |
| Severn Brewing | Dark Delight | 5.2 | Strong English Ale | Bag-in-box & Mini-keg | |
| Severn Brewing | Ruby Porter | 4.8 | Porter | Bag-in-box, Mini-keg & Cans | |
| St Austell | Bad Habit | 7.4 | Abbey Tripel | Bottles | |
| St Austell | BAOBAB | 5.3 | Wheat Beer | Bottles | |
| St Austell | Cardinal Syn | 7.8 | Abbey Dubbel | Bottles | |
| St Austell | Mena Dhu | 4.5 | Stout | Bottles | |
| St Austell | Proper Black | 6 | Black IPA | Bottles | |
| St Austell | Sayzon | 5.9 | Saison | Bottles | |
| Stroud | Big Cat | 4.5 | Stout | Bottles | |
| Stroud | Ding Dong | 4.5 | Mulled Porter | Bottles | |
| Stroud | Schwartzwalder | 5 | Cherry Stout/Porter | Cans | |
| Teignworthy | Martha's Mild | 5.3 | Mild | Bottles | |
| Theakston | Old Peculier | 5.6 | Old Ale | Bottles | |
| Thornbridge | Cocoa Wonderland Chocolate Porter | 6.8 | Porter | Bottles | |
| Thornbridge | Little by Little | 0.5 | Milk Stout | Bottles | |
| Thornbridge | Market Porter | 4.5 | Rich Porter | Bottles | |
| Tiny Rebel | Cwtch | 4.6 | Red Ale | Cans | |
| Tiny Rebel | Stay Puft | 5.2 | Marshmallo porter | Cans | |
| Twisted Oak | Dodger | 4.8 | Dark Ruby Ale | Bottles & Mini-keg | |
| Twisted Oak | Old Barn | 4.5 | Ruby Ale | Bottles & Mini-keg | |
| Twisted Oak | Slippery Slope | 5.3 | Porter | Bottles & Mini-keg | |
| Wickwar | Shanakee Stout | 5 | Stout | Bottles & Bag-in-box | |
| Wickwar | Station Porter | 6.1 | Porter | Bottles & Bag-in-box | |
| Wiper & True | Milk Shake | 5.6 | Milk Stout | Cans & Mini-kegs | |
| Wychwood | King Goblin | 6.6 | Imperial Ruby Ale | Bottles | |
| Wychwood | Hobgoblin | | Ruby Ale | Bottles | |
| Wye Valley | Wholesome Stout | 4.6 | Stout | Bottles | |
| Yeovil | Stout Hearted | 4.3 | Stout | Bottles, Mini Cask & Bag-in-box | |
| Yeovil | Latte Stout | 5 | Coffee Milk Stout | Bag-in-box | |
| Yeovil | Night Train | 6 | Porter | Mini Cask & Bag-in-box | |